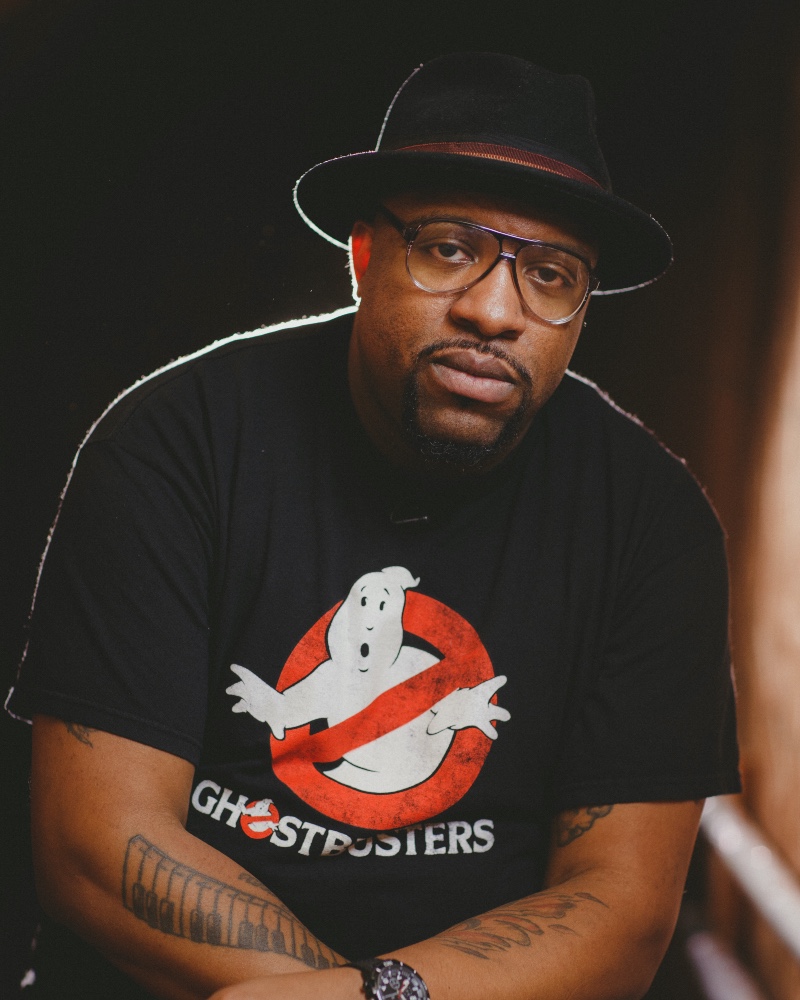 Daniel Crawford is a producer, composer and musician from Los Angeles, CA.
At a very early age, Daniel was exposed to the recordings of the greats including Donny Hathaway, Herbie Hancock, George Duke, Marvin Gaye, Prince, Michael Jackson, and Ray Charles by his father who was a multi-instrumentalist and touring musician. By the age of 5, Daniel began playing the piano. Throughout his childhood, music was a central component of his life. Along with his older brothers and friends, Daniel helped form the band Wylde Bunch at age 13. After signing with Sony Music, the band released their debut album Wylde Tymes at Washington High. The success of the project resulted in song placements in NBA Live 2005, Madden 2005, Gran Turismo 4, NFL Street and Playboy Mansion, as well as, affording the band the opportunity to tour with such luminaries as The Black-Eyed Peas, Slightly Stupid, The X-Ecutioners, The Roots, OAR, Talib Kweli and N.E.R.D. At 16, Daniel was tapped to be the musical director for Coolio and toured extensively around the world.
While continuing to perform with Wylde Bunch, Daniel decided to step out on his own by releasing the Matrix themed trilogy – Red Pill (2012), The Awakening (2014) and Revolution (2018). Each project effortlessly weaves soul, jazz, funk, afrobeat and hip-hop to create his own sound. Daniel's unique sound caught the attention of many celebrated artists resulting in production work with Vikter Duplaix, Phonte, Eric Roberson, Omari Hardwick, Osunlade, Amp Fiddler, Raheem Devaughn and DJ Jazzy Jeff. After recognizing how quickly Daniel could lay down intricate chords and effortlessly translate ideas into songs, Jeff took Daniel under his wing and told him "I'm gonna make sure the world knows who Daniel Crawford is".
In addition to creating his own projects, Daniel continued to tour or play with artists such as with Chris "Daddy" Dave and the Drumhedz, Raphael Saadiq, Jennifer Hudson, Mary J. Blige, Kenna, Angie Stone, Bilal, Rahsaan Patterson, Musiq, Dwele, Ledisi, Jazmine Sullivan, Marsha Ambrosius and more. Daniel has also served as musical director for Cee-Lo Green, Warren G, Jhene Aiko, Omarion and DJ Jazzy Jeff and Will Smith reunion shows.
Most recently Daniel has been busy composing music for film and television with composition credits on LA's Finest, Netflix's The Afterparty (2018), short film, 'Til Death (2019) Comedy Central series, South Side and the Oscar-winning animated short film, Hair Love. His compositions can also be heard in the audio version of Hair Love, narrated by Blue Ivy Carter.
While continuing to compose music for film and tv, Daniel also hopes to create programs and opportunities for underprivileged, inner-city kids so they can have better tools to succeed than previous generations.